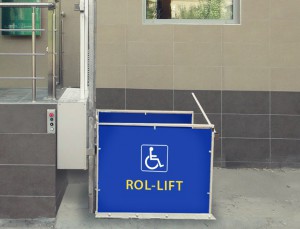 Model PTU
Lifting platform for the disabled PTU without barriers
The new development of our company – is a budget option lifting platform to provide access to people with limited mobility in residential buildings.  PTU is well-proven in the work both inside and outside the premises. The vertical design of the platform for the disabled PTU  amended as follows:
The side fences are performed by solid laminated glass or painted metal.
The standard is added to the upper stationary gate electric lock, provides security for users when finding wheelchair lift at the bottom station.
For convenience, the platform control station located on the top, bottom stop and integrated into the side protection platform.
For user security vertical wheelchair platform PTU  is equipped with catchers.
In the event of a power failure invalid lift has a manual control.
To prevent the ingress of foreign objects under the platform, along the perimeter established safety edge.
From the entrance to the platform at the bottom of the stop, the barrier has an electrical safety switch that makes the movement of the platform is not possible when uncovered barriers, preventing pilling user.
Standard equipment and specifications
Lifting height (max)
2 m
Rate of climb
0,1 m/s
Drive
Electric
Power supply
220 В, 50 Gc
Capacity
250 kg
Drive power
0,55 KV h
Platform size
1250 х 900 mm
Number of carried users
One
Security
Mechanical barrier on the upper stop and the lifting device