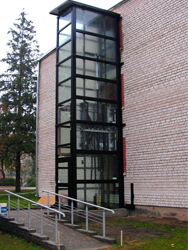 Model VTPM4000
VERTICAL LIFTING DEVICE (MODEL "VTPM 4000") FOR DISABLED PEOPLE WITH TRAVEL TILL 4.5 M
Lifting platforms with vertical displacements (lifts) with travel till 4.5 meters offered by our company are ment to equip public and industrial buildings, private houses in order to ensure accessibility for disabled people in wheelchairs and other groups with limited mobility.
If there is a space between the stairs it is possible to install indoors such kind of lift which doors can be opened on three sides. Lifts with panoramic or closed shaft can be also installed outdoors, for example if the entrance to the building is from the balcony.
Lifts are equipped with buttons "UP / DOWN" in the car, lift call buttons on the floors.
Elevating platforms with vertical move are intended for equipping of public, manufacture and residential buildings, passing places – any places where it is necessary to move in vertical direction between different level, and it is impossible to arrange a relevant access ramp – for providing access of these places by disabled persons in wheelchairs and by other groups of persons of limited mobility.
Our company offer different modifications of vertical elevating machines both for installation inside and outside the building.
Vertical platform with two stop positions is intended for the moving to small height (from 0.4) and can be used without a shaft; maximum rise height of this platform is 1.6 m. By placing the platform in a shaft the rise height can be increased up to two meters. There are different modifications of design and drive type. Elevating equipment with electrohydraulic drive is equipped with an overload preventing valve.
Electromechanic elevating equipment is distinguished with increased anti-vandal protection, has original design and all necessary security units.