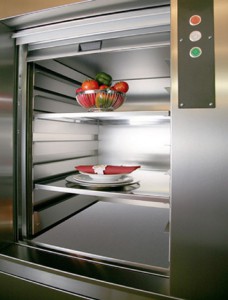 Service Lift
Due to acceleration of development of production and service sector, small goods elevators – service elevators are irreplaceable for convenient work in warehouses, in restaurants, shops and manufacturing areas.
Cage of the service lift is manufactured from metal modules and can have both execution with access from several sides and access from one side. In the cage there can be installed horizontal shelves, safety grids, lighting, assisted door control, intercom, authorized access system. Accesses to the cage for loading can be placed from three sides.
Service lifts are reliable in operation, simple in use, noiseless, do not demand additional care.