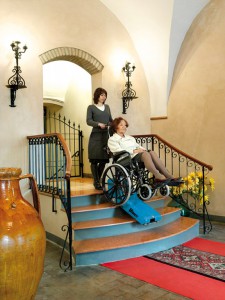 Stair climbers from Vimec
Vimec company represents 2 different models of stair clambers – T09 Roby and T10 Scalacombi.
T09 Roby is the tracked mobile stair climber that allows people in wheelchairs to overcome architectural barriers both in the home and in the outside world, without any fixed installations. The best in mobile stair climbers for comfort and safety.
Designed and built to overcome straight staircases with square/rectangular landings: without the risk of damaging them thanks to the special characteristics of the tracks that provide a high level of grip and leave no trace, and in total safety.
Innovative and safe, Roby is moved by a electronically controlled reduction gearbox which ensures: constant speed in all conditions of use, both loaded and empty, uphill and downhill, long range, safety and peace of mind at all times for the passenger and the operator.
Always reliable. The electronic control system, as well as offering greater safety, results in a drastic reduction of faults and, by virtue of reduced mechanical wear, in a long lifetime with excellent performance in terms of safety and ease of use. The T09 Roby mobile stair climber is equipped with a system of manual descent, both uphill and downhill, that in case of emergency on the staircase enables the safe recovery of the passenger.
Ergonomic and functional. The characteristics of the T09 Roby mobile stair climber are all focused on the assisted and the operator. They are assured stability and fluidity of travel on the staircase, great ease and ergonomics of movement on the floor, usability, solidity and long range.