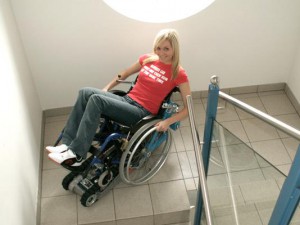 Stairclimbers from Lehner Lifttechnik
Lecher Lifttechik introduse 4 different stairclimbers – Stairmax, Standard, Public and Evac Skate.
The Stairmax is the only stairclimber worldwide that allows active wheelchair drivers to go up and down stairs without the need for an assisting person. It is used totally autonomously and helps to the wheelchair user to regain independence. This mobile wheelchair stairlift can turn on intermediate landings having a minimum width of 1 m. The Stairmax is a cheap solution to a conventional platform stairlift and allows to climb stairs indoor and outdoor. It is a robust and compact device that can be transported easily between different staircase locations. The users wheelchair needs a small adapation to the frame of the wheelchair.
With the stairclimber Standard straight stair flights with inclination up to 35° can be climbed in a safe and simple manner. The stairclimber Standard adapts to most wheelchairs and can be taken apart easily for storage or transport in a car. The product is very robust and requires a minimum of maintenance. With the stairclimber SA-S very little space is needed to turn on narrow landings. The particularity of stairclimber SA-3 is the loading capacity of 160kg as well as the possibility to carry all kinds of manual wheelchairs! Special attachments allow the use of wheelchairs with folding detachable backrest, adjustable handle, hand brake lever or children wheelchairs .
The stairclimber Public carries all types of manual and electric wheelchairs on staircases up to 35°. Especially for public building such as schools, museums, universities, etc, this stairclimber offers an economic alternative to a conventional platform stairlift installation.
The Evac Skate is an evacuation device used to move people with a disability or injury down stairways quickly and safely during an emergency. It's patented speed governor and braking system allows a small attendant to easily evacuate a larger passenger. The track grip the stairs, regardless of the stair contruction material. In an emergency such as a fire or an earthquake, elevators should not be used. People with limited mobility may be trapped. Evac Skate provides a lifeline to safety.