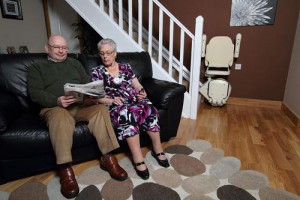 Chairlifts from Lechenr Lifttechnik
Model Essential.
For homes with a straight flight of stairs, the Essential straight stairlift is rated up to 120kg is pleasantly styled, easy to use, and exceptionally durable.
When not in use the Essential can be folded away and with its slim profile will not obsruct the stairway for use by other people.
Model Alpha.
The Alpha stairlift is the perfect solution to make your home accessible and regain your freedom of movement.
Thanks to the aesthetically and user friendly design, this lift fits into any environment and will improve your independence and quality of life. Due to the extremely slim and companct design the rail and chair occupy only a minimum of space, keeping the staircase free of obstruction.
The robust construction ensures a long working life and reliable performance. Confirming to the highest safety and quality standards the Alpha stairlift is an inexpensive way to manage staircases in a pleasant way.