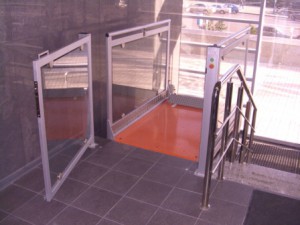 Model VTPM2000
VERTICAL LIFTING DEVICE (MODEL "VTPM 2000") FOR DISABLED PEOPLE WITH TRAVEL TILL 2 M
Lifting platforms with vertical displacement are ment for public, industrial and residential buildings, passages – all places where it is necessary to move vertically between different levels and where is no possibility to equip an appropriate ramp in order to ensure the availability of such places for disabled people in wheelchairs and other groups of people with limited mobility.
Our company offers different models of model VTPM2000  for installation inside the building and outside.
Modern design of the lifting platform blends harmonically in modern and historical architecture of the city. Lifting platforms are available for both indoors and outdoors use.
The platforms offered by our company are anti-vandal, have original design and all necessary security hosts.